Nuno Butterfly Scarflette Class

Sunday August 9, 2015 from 9am-4pm

$145

 

Thursday August 13, 2015 from 9am-4pm $145 

Both classes are full  Please email to be added to waiting list.

 


In this beginner friendly class you will learn how to make a beautiful nuno collage scarf.   Learn the fundamentals of nuno felting along with some of the unique techniques even the top felt makers use!  You will be making a sandwich of silk/wool/silk with very little wool so you will have a masterpiece even after one class.  I will take all the mystery out of nuno felting and you will go home with your very own treasure.  You will learn how to make nuno dreadlocks, ruffles, eyes and edges.

-Jean Gauger

For Butterfly Scarflette Class Click here

Butterfly Hoodie Workshop

 

August 10-12 Mon-Wed. 9am-4pm  $425 




In this 3 day workshop, you will be designing your very own Double sided Nuno Collage Seamless Hoodie. By saying double sided I mean a sandwich of silk/wool/silk..This design is very flattering and comfortable to wear. We will then make a sample to make sure we like it. Then we will get super busy laying out our design! I will assist you as much as I can during the whole process giving you felting tips as we go. When we get close to the end I will help fit your hoodie vest to you to a work of art you will never want to take off! 

Nuno experience necessary and seamless garment experience very helpful.

-Jean Gauger

For Butterfly Hoodie Materials List Click here

Come enjoy the opportunity to spend a destination vacation working with fiber, with instruction from Jean Gauger, at the Alpaca Fiber Studio & Friends.   Jean Gauger is one of today's most sought after Nuno Felt instructors.  

She's coming to Northeast Ohio!
We will be exploring Jean's  original technique for felting.  
You will create a seamless Nuno Felt Collage Wearable Art piece.  You will learn how to make a double sided (sandwich) of silk/wool/silk...3 layers. While still maintaining incredible drape, we will learn to incorporate design elements as they relate to a butterfly.  
Jean will teach us her shortcuts to reducing rolling time!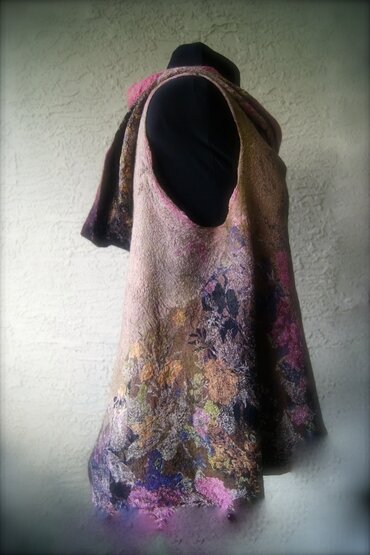 Details...
Class Registration
To make a reservation, please email me [email protected]  
You are welcome to mail a check or give me your credit card information over the phone.  
Registration is not done online.
Spaces are limited.
Butterfly Hoodie 3 Day workshop fee is $425.  
Early sign up discount: 
$385 paid in full by April 1, 2015
$395 paid in full by June 1, 2015.  
$425 paid in full June 1-August 10, 2015.
The Butterfly Hoodie can have a non-refundable $100 deposit to hold your place when you register.  Remaining balance is due 30 days later or until June 1, 2015.  Unfortunately, if you have not paid in full your Workshop fee when it is due, your deposit will be forfeited and the next person on the waiting list will be contacted.  
The Nuno Butterfly Scarflette class is $145 and is due when you register. 
Early sign up discount: $135 before May 1, 2015.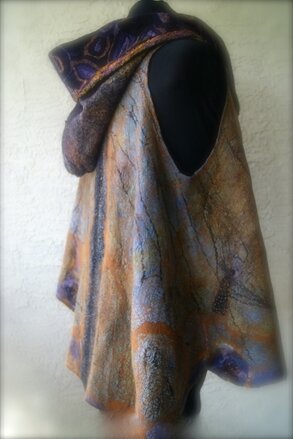 Refunds  
If you have paid in full and need a refund, you will need to find someone to take your spot.  
Workshop and/or  Scarflette class fee may be returned minus 10%.  
We will be happy to help you fill that spot with our waiting lists. 
Should funds be paid to you, a check will be written to you at end of workshops in August 2015.   
Please note, there are no exceptions, even for illness.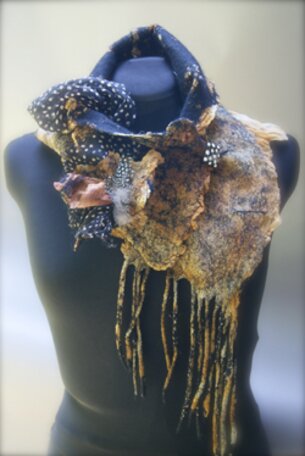 Travel   
Participants flying into Northeast Ohio will want to fly into Cleveland Hopkins (CLE) or as an alternative, Akron Canton (CAK) which is a bit farther away.  
 If you are driving, do check MapQuest or GPS.   
Alpaca Fiber Studio is located in Chagrin Falls, Ohio.  The Village of Chagrin Falls is a quaint News England style suburb located southeast of Cleveland, Ohio.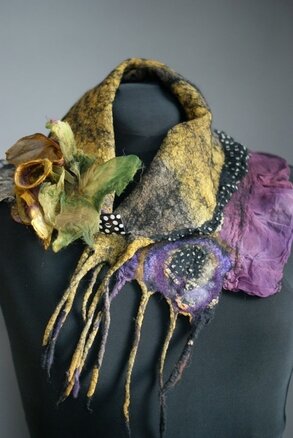 Waiting List   
Should a Class or Workshop be filled, don't hesitate to contact me. I have a waiting list and should something happen, I would be happy to contact you and get you into your space!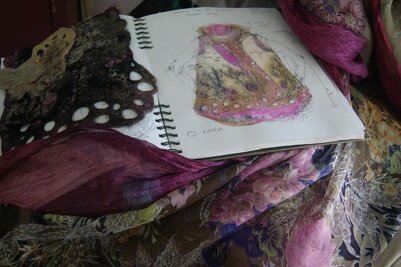 Lodging   
In our village, enjoy the elegant B&B setting of the Inn of Chagrin. Felting friend Beth Skeel has a block of rooms reserved for us (with a discounted price) under the Alpaca Fiber Studio. Rooms range $140-$150 per night. Contact them direct for reservations. www.innofchagrin.com   440-247-1200  
There are also several hotels/motels in the Beachwood, Woodmere, area (around Chagrin Blvd. and Interstate 271). 
That area is a 15 minute drive to the Studio.
Transportation 
The Inn of Chagrin offers a unique service for their customers.  They have a list of drivers, for hire, who offer their service from the airport to the hotel. 
My husband, Rob, has offered to "taxi" between Inn of Chagrin and 
Alpaca Fiber Studio in the morning and afternoon at the end of class. 
The Inn of Chagrin is 1/3 of a mile to the Studio.
When arriving for Sunday or Thursday Scarflette class, park in rear of our building.  
When arriving for 3 day Workshop, register at the Studio. Then, drive to the far side of the 2nd building (Valley Art Center 155 Bell St) to unload. Parking is not permitted there. Please park your car in the rear of the buildings.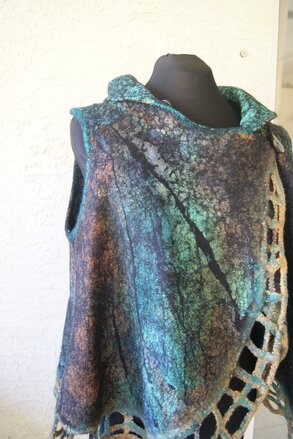 Food   
Lunch is available each day. It will include fresh vegetables and fruit. It will be healthy and homemade. Should you have a particular eating program, please be sure to bring your own requirements. The Husband/Taxi/Chef does not take special requests. Yes, he loves compliments! 
We have a refrigerator and microwave. 
For those staying at the Inn of Chagrin, they offer continental breakfast. Lemon Falls is an eatery around the corner from the Inn with wonderful takeout.
Chagrin Falls has a variety of restaurants to accommodate many eating styles and preferences for your dining pleasure. The majority are within walking distance, or short drive, of the Studio and the Inn of Chagrin. 
Yes, there is a Starbucks. 
We will be hosting a "Meet and Greet" for Jean Gauger with a Champagne Happy Hour at 4pm on Tuesday, August 11, 2015.   This Trunk Show will include Jean's couture garments that will be for sale.  Invited will be Alpaca Fiber Studio customers, fiber friends, Cleveland Museum of Art TAA members, Valley Art Center members.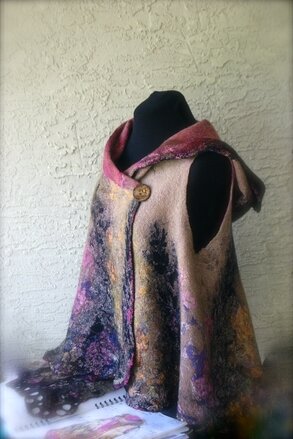 Shopping 
Should you choose to unwind at the end of the day, there is wonderful shopping in our little village of Chagrin Falls, Ohio. There are fine clothing boutiques, galleries, restaurants & eateries, iconic popcorn shop, Jenny's ice cream, a great cupcake shop, a very old hardware store, banks, farmers market on Sunday morning, a park along the river, the falls…wonderful photo opportunities. 
Within a short drive (15 minutes) to Chagrin Blvd and 271, additional shopping and restaurants are available, including the exquisite Easton Square Shopping Center. 
Ten minutes beyond that is Beachwood Place with Nordstrom's, Saks, Higbees.
Should you need additional fiber, silk, sari silk, embellishments, fiber must haves, felting supplies, for nuno felt, locally raised, hand dyed alpaca yarn…….the Alpaca Fiber Studio has many fiber treasures for sale during the events. And Jean might bring some of her hand dyed silk treasures! She is a fabulous dyer.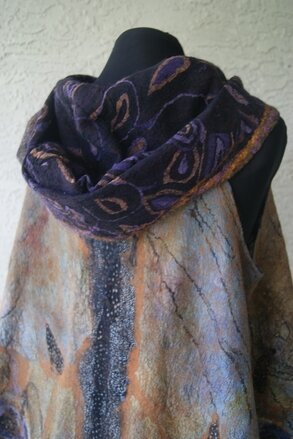 Volunteers 
I am looking for some volunteers to help set up tables and risers on Saturday at Studio and Gallery, Wednesday evening close down Gallery, during each day of class/workshop offer to bring a homemade food item…dip, desert, something you enjoy making. 
I am sure there will be more chores as we get closer. If you are interested in volunteering any times between August 8 -14, please email me, .
Host Helpful Hints      
-It is very helpful to study/sketch/doodle the color and structure of the butterfly prior to coming to class. Check on-line for images of Jean's sketchbooks her Facebook pages, Pinterest. It helps to familiarize yourself with Butterfly's before tackling the incorporation of them to a large seamles nuno felt…
…..but, you don't have to!
- Try a few samples of what your vision of Jean's work is prior to coming to class.
- Be comfortable with shingling fiber.  It will be a real time saver.
- Bring exactly the supplies that are on the list. Particularly the silk and fiber. Don't wait until the week before the class to assemble these.
- Arrive early.
- Wear comfortable shoes. Be prepared to get wet.
Come to the Studio to study with an amazingly creative & talented nuno felter, Jean Gauger.
We will eat, drink, laugh, and most of all………create new artforms with fiber.