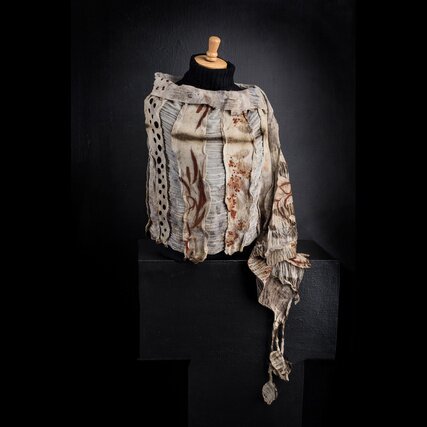 As fiber artists, we explore, experiment, encourage, and excell in Northeast Ohio when it comes to combining felting & dying.
Felting....
By manipulating a minimum amount of alpaca/wool fiber through a fine base of silk, I can make a felt fabric with characteristics quite different from traditional felt.  The technique is called "Nuno Felt" which was originally developed by Polly Sterling in the early 1990's.  It has drape, flexibility, is incredibly soft, and is lightweight for summer. 
Dying....
Many dyeing techniques are embraced to achieve individual signatures.  The newest, Eco Printing (developed by India Flint) creates reflections of nature through natural dyeing.
There are many possibilities for transparency, exciting texture, layers of materials with diverse characteristics, and thus great multi dimensions for wearable art.  I am proud to be a vehicle for customers to express their creative self.  They return because of the compliments they receive when wearing an Alpaca Fiber Studio wearable art piece.   
You will find my unique wearable art pieces for sale at my Studio, Galleries, and Juried Art Shows throughout the greater Cleveland area.
Studio
The Alpaca Fiber Studio is open on Saturday 10am-2pm or by chance or  appointment.  Here you will discover all our latest creations.  You will find a hand crafted gift to our signature, award winning wearable art pieces. 
Felting classes are held on most Saturdays in the fall, winter and early spring.  
The Alpaca Fiber Studio is a unique place where women gather, create, enjoy, and develop a new creative awareness about themselves. 
At the Studio, we do it by having fun exploring the design elements of art through felting fiber and silk. 
Felting Classes, Artists Open House, Opening Receptions...
...come play!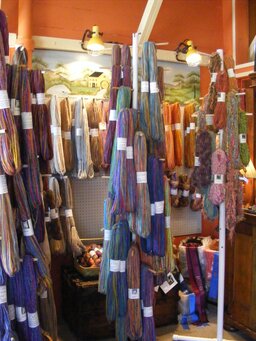 Over time, I have developed my own specific parameters for batts, roving and yarn used in my nuno felt.  Often times I combine locally raised Alpaca, BFL, Merino, & Cormo with silks & other fun additions.  The alpaca fiber is from local farms, the merino, BFL & Cormo come from farms within the USA.  Processing is done at local mills.
Only certain weaves of silk are usable to make a soft drape in wearable Nuno felt.  Vintage Sari Silks work wonders.  My working supplies are available for sale at the Studio.