2017 Class and Event Schedule
Alpaca Fiber Studio Art by the Falls
Preview
Come to Chagrin Falls Friday evening June 2 from 6-8pm. Many of our customers love the opportunity to get a sneak peak of Alpaca Fiber Studio 2017 summer collection of Nuno Felt and Eco Print designs. Come shop our
largest selection of artisan
crafted wearable art of the summer....while having a glass of champagne. We will also be open Saturday, June 3 from 10-2.
Don't forget to come back to Chagrin Falls June 10-11 for Art by the Falls in Riverside Park.
June 2 is also First Fridays by the Falls....
Chagrin Falls Art comes alive the First Friday of each month from 6-8pm. Galleries & Art Studios open up at the same time to present compelling visual art exhibits & experiences. With Galleries & Artists Studios located in historic Chagrin Falls, interact with local artists in their work space and retailers of authentic fine art and fine crafts.
Spend Friday evening
June 2
walking through the Village of Chagrin Falls and enjoy the Art experience we have to offer. Don't forget to stop in to see be.Gallery, h'Art of Chagrin, Glass Assylum..............
June 10-11 Chagrin Falls Art by the Falls
July 15 Willoughby Arts Fest
July 16 Medina Art on the Square
August 5 Lakewood Arts Festival
August 6 Chardon Arts Festival
August 26-27 Hudson Art on the Green
....watch for our fall class schedule due out mid June

Beginner
Nuno Felt Scarf
$25 (includes kit fee)
A good place to start! You will learn the basic mechanics of how to Nuno Felt. First, you will needle felt your design into place. Then you will learn how to wet felt. Enjoy the magic of Nuno Felt in this easy beginning class. Come have fun discovering the creative self in YOU.
This is a great class to gather your Girlfriends for an evening out and get creative. Bring your own adult beverage.
Hand dyed fiber and silk included.
Email RGrodin1@gmail.com for your reservation.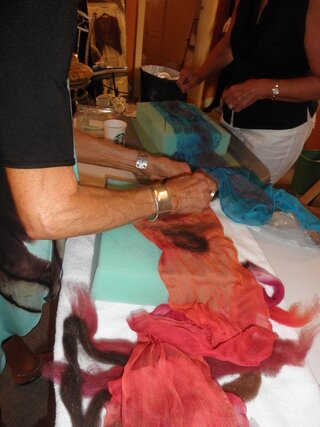 Workshop/Class Notations….
Workshops need to be paid in advance to secure your spot. This is done when you register.
Registration To register for a class, please email me at RGrodin1@gmail.com
I will be happy to let you know if space is available.
Don't hesitate to ask to be put onto a waiting list for any of the "full" classes. Often I open new classes if I know there is enough interest.
Registration is not done on-line.
Supplies. In 2016 I have changed the Studio format. All supplies are provided for you. Come prepared to relax, and be creative.
Cancellations 7 days in advance, I am happy to reschedule you to another class. Kits are hand dyed, packaged, and tables set up 6-7 days in advance. Cancellations that need to be made within 5 days, you are welcome to stop in and pick up your kit, but no class refund. Thank you for your understanding.
Lunch is typically served with each class. It is homemade by husband Rob. Please don't hesitate to compliment him. Men need that, you know!
Out of town guests might find comfortable lodging at The Inn of Chagrin Falls, 87 W Orange Street, Chagrin Falls, Oh 44022, ask for Beth Skeel. It is next door to Gameskeepers & Lemon Falls, both yummy restaurants. Just down the street is Starbucks, and 1/2 mile to Alpaca Fiber Studio.
Chagrin Falls is a quaint village with a New England flair.
Come play with me!
Alpaca Fiber Studio & Friends
151 Bell St.
Chagrin Falls, OH 44022